Steven P. Cohen, President
Anthony (Tony) C. Adamopoulos, Esquire -- Senior Trainer
Ambassador Gershon Gan, Senior Trainer
Peter E. Isaac, Senior Trainer
Curtis Johnson, Senior Trainer
Andréa F. MacLeod, Senior Trainer
John Murphy, Senior Trainer
Victoria Perez, Senior Trainer
J. Ron Scruggs, Senior Trainer
Paul McDevitt, Senior Trainer
Richard M. Highsmith, Senior Trainer
Michael Gallagher, Senior Trainer
Raymond Walters, Senior Trainer
Lynne Robson, Senior Trainer
Joseph B. Carringer, Webmaster & Director of Online Marketing

---

Paul McDevitt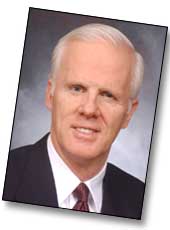 Paul McDevitt has negotiated agreements in over 30 countries on every continent except Antarctica. He has negotiated or participated in business deals with a value exceeding US$2 billion in purchases, sales, leases, construction contracts, acquisitions, zoning, lease buy-outs and Eminent Domain proceedings representing several global firms. His negotiation partners have ranged from the most sophisticated investors to a wide variety of local and national government officials, from illiterate squatters in several countries to "Mom and Pop" businesses in places referred to by the locals as Whoop Whoop, Australia and Resume Speed, Idaho.

Paul has published articles in "The Real Estate Review" and "Buildings" magazines and been a guest lecturer at Columbia University and other colleges and universities. He has spoken before organizations such as NACORE, the IDRC (now CORENET Global), the Urban Land Institute, The Facility Management Association of Australia Ltd., and the American Institute of Architects. Recently, he has written and teaches a course in commercial Real Estate practice.

He holds an Executive M.B.A. from the University of Pennsylvania's Wharton School with an emphasis in Real Estate. He is a licensed Real Estate broker in New York and North Carolina.

Paul and his wife, Ruth, live near Charlotte, NC, recently relocating from the New York-New Jersey area. Paul and Ruth have three grown daughters. Paul enjoys fresh water fishing and cross-country skiing. He describes himself as an enthusiastic but mediocre tennis player and a reformed golfer. Early in his career, Paul claimed to have colored his hair white to look distinguished, now he claims to have earned his white hair in his many negotiations.