Steven P. Cohen, President
Anthony (Tony) C. Adamopoulos, Esquire -- Senior Trainer
Ambassador Gershon Gan, Senior Trainer
Peter E. Isaac, Senior Trainer
Curtis Johnson, Senior Trainer
Andréa F. MacLeod, Senior Trainer
John Murphy, Senior Trainer
Victoria Perez, Senior Trainer
J. Ron Scruggs, Senior Trainer
Paul McDevitt, Senior Trainer
Richard M. Highsmith, Senior Trainer
Michael Gallagher, Senior Trainer
Raymond Walters, Senior Trainer
Lynne Robson, Senior Trainer
Joseph B. Carringer, Webmaster & Director of Online Marketing

---

Michael Gallagher
Senior Trainer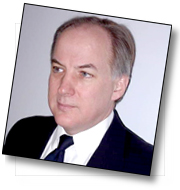 Michael Gallagher brings a unique background to the negotiation training field. He has skills gained from working as a commercial litigator in the United States, a consultant in legal reform projects in a variety of settings, a developer of training programs and training institutions, a manager, and a professional trainer in law and business.

Michael started off in the negotiation world working for nine years with the Philadelphia law firm, Jacoby Donner as an associate and then as a partner. The firm specializes in transactions and disputes in commercial real estate development. Michael says, "It was like working on the line in a negotiation factory." He experienced first hand the mentoring and skills development that the best law firms can provide.

When his mother's homeland, Estonia, regained its independence from the Soviet Union in 1991, Michael could not resist the idea of going back to help Estonia develop a new legal institutional framework. In 1994 he left his firm to relocate in Estonia as the American Bar Association, Central and East European Law Initiative (CEELI) liaison to Estonia. In 1995, he went on to help create, then develop and manage a new type of legal professional training institute called the Estonian Law Centre Foundation (ELCF). Then over a 13 year period, he worked at the ELCF as advisor, trainer, board member, chairman of the board, and then director. In addition, Michael worked as director of EuroCollege, Tartu University and vice director of EuroFaculty (a European long term educational reform project). He also has worked as a trainer and training program developer for professional lawyers and for entrepreneurs.

Mr. Gallagher consults in numerous legal reform projects sponsored in Europe, Eastern Europe, the Middle East and Africa. He also maintains an Of Counsel relationship with the largest law firm in the Baltic region, Raidla Lejins and Norcous. Last but not least, he develops and provides training in law, business communication skills and negotiation. He works with TNSC from Tartu, Estonia where he resides.