---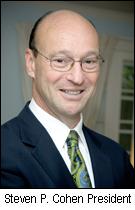 About The Negotiation Skills Company

Our mission at The Negotiation Skills Company is to help people enhance their negotiation skills to increase their proficiency, efficiency, and satisfaction with the process of reaching agreements.

We achieve our mission through the
following activities and services:



This web site's pages provide useful information about the topics listed above. One of the unique features of this web site is the opportunity it presents for you to ask direct questions about negotiation issues which Steve Cohen will answer by e-mail.
---

Frequently Asked Questions
What makes The Negotiation Skills Company, Inc. (TNSC) different from other providers of negotiation training?

We recognize that negotiation is not a competitive sport, that unless the parties collaborate to reach agreement, even short-term solutions may fall apart.
TNSC's copyrighted preparation tool has been found to save four hours of negotiation time for every fifteen minutes devoted to the use of the tool.
Every one of our trainers has a minimum of twenty years experience as a deal-making negotiator in such fields as banking, lobbying, real estate, labor/management, sales, divorce, journalism and publishing, and hostage negotiations.
Each program is customized to address the interests of our organizational clients and the individual participants.
TNSC undertakes extensive follow-up with all participants in our courses, with contact every month and detailed document follow up twice in the first year following each program.



How will your program fit the particular needs of my company?
Each program is customized through discussions with our client and pre-course questionnaires filled out by each participant.

Who should attend?


People who:
Make decisions involving their company and/or other people
Work as part of teams
Negotiate with subordinates, superiors, and members of other tribes within the company
Need to build or enhance relationships with clients, customers, or suppliers
Are involved in budget decisions
Have to deal with internal and external lawyers, accountants and other professionals

How long are the programs?
Building Bridges© is one day
Fighting Fires Without Burning Bridges© is two days
Booster Shot© (a FFWBB review course) is one day
Agreeing to Agree© is three days
TNSC also presents programs of other durations.

What size is the class?
The ideal class size for Fighting Fires Without Burning Bridges© (2 days) and Building Bridges© (1 day) is 12- 18 people. The maximum class with one trainer is 24. Booster Shot© (1 day review of FFWBB) is designed for 3 - 9 people. Agreeing to Agree© is designed for up to 12 people.

What is the lead time TNSC needs to present a class?
It usually takes approximately 4 weeks to prepare for and present a class; however, when necessary, it can be done in less time.

Where are TNSC's trainings held?
TNSC presents on-site courses for corporations and other organizations. Locations are selected by our client organization and can be at a company facility, an outside conference center, or hotel.

Does TNSC present courses outside the US?
Yes. With Senior Trainers located on three continents, TNSC has the capacity to present programs virtually anywhere. At the beginning of 2004, we can present courses by native speakers in both English and Spanish. Participants in courses presented by TNSC have come from more than fifty countries.

Are any TNSC training programs open to the public?
We do private programs for corporations and organizations. However, some of our clients allow outside attendees. We keep a list of interested people to notify of those opportunities.

Currently TNSC is in discussion with executive education programs on both sides of the Atlantic about co-sponsoring workshops designed for individual participants.

Is there a schedule of TNSC training workshops?
We do not have a schedule of workshops, because TNSC only presents programs at and for corporations or organizations; however, if you wish to attend a course that has openings for outside attendees you can request to be added to the list of people that we contact when such an opportunity arises.

Are your programs interactive?
Yes, both our one and two day course become interactive within the first ten minutes of the program. The workshops include role plays, exercises, and discussions.

Do you provide any private tutoring on negotiation skills?
Steve Cohen, President of TNSC, does Executive Coaching and mentoring. He can also be contacted for private coaching in negotiation. Please visit www.tnscmentor.com for more information on these services.

Do you provide negotiation or mediation services?
TNSC provides consulting on negotiation, but believes that individual parties can represent their interests better than 'hired guns' who have no stake in the outcome of the negotiation.

We provide mediation services on rare occasions.

Does TNSC provide consultants for actual negotiation situations?
Yes. Our consultants' job is to empower negotiating parties to pursue their interests effectively.

What kind of companies has TNSC provided training for?
TNSC's programs have been used by companies ranging in size from less than ten professionals to organizations with more than one million employees.

Our client list includes Nike, Oracle, Dana Corporation, OshKosh B'Gosh, CIGNA Healthcare, Wal-Mart, Covance Periapproval Services, Xerox Corporation, Henrico, Virginia County Government, and British Telecoms, and many other companies and organizations in a wide variety of business sectors.

Are TNSC's programs 'off the shelf?'
Yes and No. Each program is customized with input from both the corporation/organization bringing us in and the individual participants attending the program.

What other benefit does TNSC provide the client above and beyond the actual program?
TNSC sends out 2 follow-up evaluations to each graduate, at two months and one year after their program. Each of our alumni receives a learning point reminder every ten days by email. For clients who want it, TNSC also offers our one-day Booster Shot© review program. We also stress that we continue to be available to our graduates by phone, fax and email.

Can you help me with a specific negotiation problem?
Specific situations are addressed in our programs as well as on our website: www.negotiationskills.com in the 'Ask Steve's Advice' section.

Do you negotiate divorce settlements?
No.

Can TNSC be employed as an arbitrator in a binding arbitration settlement?
Some of TNSC's training team are certified arbitrators in the United States and/or members of international arbitration bodies.

Does TNSC provide legal services/representation?
No.

What is the best way to become a credentialed negotiator?
There is no nationally-recognized certification of negotiators. TNSC has chosen trainers and consultants who each have at least twenty years of deal-making negotiating experience.


---




What People Are Saying About Us

"This workshop was the best two day training session that I have experienced in my 23 year aerospace career. It not only provided me with the tools to immediately enhance my negotiation skills, it also provides me with a valuable resource for future needs in the area of negotiation opportunities down the road. I would strongly recommend this workshop to any business person who deals with others in the area of negotiation."
- Steven Marganski

"The ability to succeed in business, professional and personal life requires all the insights and skills taught in this negotiation workshop. The course could not have been more relevant to adult life!"
- Medical Doctor / AtlantiCare Hospital, Lynn, MA

"Truly one of the most informative sessions I have been part of. This is a vitally important subject matter and the instruction was excellent. Typically role plays do little for me, but this time the choice and type of role plays brought home and reinforced much of the information taught."
- Customer Design Supervisor / American Electric Power, Columbus, OH

"If you're genuinely keen to move away from negative, adversarial relationships, then this course offers many ways to achieve this as well as also getting other parties to change."
- Deputy Director of Business Development / Scarborough & NE Yorkshire Healthcare, UK

"This course has provided me with a 'new look' at how I should negotiate; it has given me a '3D' look."
- Projects Administrator / Reuters, UK

"An excellent skills workshop that addresses the total spectrum of barriers both individual and collective to successful dialogue and imparts easy to use techniques to dissolve those barriers. Great stuff!"
- Vice President / Bluefield Medical Center, West Virginia

"During interactions with a major pharmaceutical company that had a study design we thought impractical, we used interest mapping to understand the interests and BATNAs of every department. We were able to streamline the study dramatically and were able to do the study six months faster than anyone thought we could. As a vendor who had not yet been awarded the program, the risk of not getting the contracts was in the tens of millions of dollars. We were able to save ourselves and our customer a lot of money."
- Vice President, Operations / Covance Periapproval Services, Radnor, PA

"Go for it! Learn why negotiations fail and how to head in a different direction before you ever come face-to-face for discussions with the other party."
- Joint Use Administrator / American Electric Power, Columbus, OH
---

Our Most Recent Newsletter
The occasional newsletter of
The Negotiation Skills Company, Inc. (TNSC)
Number 43, January 2009

FIGHTING FIRES WITHOUT BURNING BRIDGES(sm)
The occasional newsletter of The Negotiation Skills Company, Inc. (TNSC)

Memorial Edition

MARSHA VAUGHAN 1943-2009

Negotiation is very much a 'people' activity. Machines may be utilized as tools to carry forward the negotiation process - but the communication, collaboration, and decision-making are all the province of human beings.

Relationships are crucial as people negotiate. It is critical to understand the nature of the relationship between negotiators, their constituents, and other interested parties. Moreover, as negotiators representing different parties deal with each other, they must understand the relationships of the parties and the degree to which relationship issues complicate - or simplify the negotiation process. For seven years The Negotiation Skills Company was blessed with the involvement of Marsha Vaughan, whose title Vice President of Marketing barely touched the extent of her involvement in every activity of our team. Marsha's relationships with TNSC's clients, suppliers, and trainers improved all of those interactions. She developed methodology and used her organizational skills to add value to the entire process and all the work we do.

Marsha Vaughan died on January 2nd after a valiant battle with cancers that invaded her body, but never had a chance against her spirit, her sense of humor, or her capacity to empathize with others. Towards the end of her life I brought my laptop to her room in the hospice with photos and videos from clients as well as members of TNSC's training team who wanted to say hello - and good-bye. Marsha looked at me and asked, "What kind of crazy person brings a laptop to the bedside of a dying woman?" As she looked at the photos and videos, there were tears in her eyes reflecting the profound emotion of feeling so appreciated.

One of the strengths Marsha brought to TNSC was her understanding of the value of preparation. As her body battled the cancer, she focused on planning her funeral. She found that preparation was another way of prolonging her sense of being alive, of being in charge of something.

TNSC lost Marsha's day-to-day presence in December 2007 - when she stopped work to focus on her treatment and her family. But she remained actively interested in our work through 2008.

This newsletter is not our usual discussion of the negotiation process - yet the way Marsha negotiated with her health and her life is a lesson for us all.

We will miss her enormously.


Final Word

Eleanor Roosevelt wrote:
Many people will walk in and out of your life,
But only true friends will leave footprints in your heart.
To handle yourself, use your head;
To handle others, use your heart.
Steve
Steven P. Cohen, President
The Negotiation Skills Company, Inc.
tnsc@negotiationskills.com
For an automatic update
of our Quotes and Stories and our
occasional TNSC newsletter, submit your e-mail address below.

---

Negotiation & Other Relevant Links
Solo Negociadores (Argentina)