Steven P. Cohen, President
Anthony (Tony) C. Adamopoulos, Esquire -- Senior Trainer
Ambassador Gershon Gan, Senior Trainer
Peter E. Isaac, Senior Trainer
Curtis Johnson, Senior Trainer
Andréa F. MacLeod, Senior Trainer
John Murphy, Senior Trainer
Victoria Perez, Senior Trainer
J. Ron Scruggs, Senior Trainer
Paul McDevitt, Senior Trainer
Richard M. Highsmith, Senior Trainer
Michael Gallagher, Senior Trainer
Raymond Walters, Senior Trainer
Lynne Robson, Senior Trainer
Joseph B. Carringer, Webmaster & Director of Online Marketing

---

Ambassador Gershon Gan, Senior Trainer
Ambassador Gershon Gan's Official Website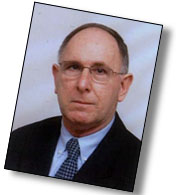 Ambassador Gershon Gan served as a career diplomat in Israelís Ministry of Foreign Affairs for over 30 years, including diplomatic postings in the U.S., Europe, and Africa. He has filled a variety of significant roles including: Ambassador to Zimbabwe and a number of other African countries, Consul for Public Affairs in New York and Boston, Delegate to the UN and Israeli Diplomat in Residence at Tufts University in Boston.

He has been involved in numerous international negotiations including peace talks with both Egypt and Lebanon, many fraught with extreme hostility and mistrust. But, he says, some of the most difficult negotiations he has faced involved navigating policy proposals through the maze of internal government bureaucracy and braving inter-agency rivalries in his own country.

While serving as Ambassador in Africa he was involved in development and humanitarian assistance programs, an activity which often demanded a myriad of negotiations with local authorities and various aid agencies, as well as the need to reconcile conflicting interests and goals. Despite the difficulties involved he feels that his role in the efforts to alleviate the harsh poverty and deprivation facing the local population was one of the most rewarding of his career.

During a mid-career interlude at Tufts University, he donned academic gown as Diplomat in Residence at the Fletcher School of Law and Diplomacy, subjecting the insights gained from his diplomatic negotiation experience to the analytic scrutiny of academia.

He was later able to hone his negotiation skills in a business environment during a three-year stint working at the international PR consultancy Burson-Marsteller in Washington and London. There he specialized in crisis management and media training, and served as consultant to both corporate clients and countries.

He has extensive experience as a public speaker and in dealing with the media. Ambassador Gan holds a degree in International Relations and History. He is now an independent consultant, and also travels widely speaking on current developments in the Middle East and development aid issues. His greatest challenge in public speaking is not to repeat a joke with the same audience.