"Let Wall Street have a nightmare and the whole country has to help them back into bed again."
--- Will Rogers
Click here to receive free regular quotation updates
and a subscription to TNSC's occasional newsletter.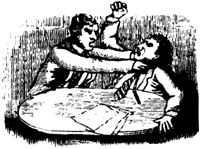 Everybody negotiates all the time, at work, at home, and as a consumer. For some it seems easy, but others view the process of negotiation as a source of conflict to be resisted and avoided if possible.

Negotiation is a life skill. One psychiatrist has said that our workshop Fighting Fires Without Burning Bridges should be a required course for entrance to adulthood.

Learn more about the process of interest-based negotiating. Enjoy the articles and information within this site, and return frequently, as sections are being updated constantly. A free subscription to our email newsletter, negotiation quotation mailing and free "Introductory Information Package" can be requested from our online form.



What makes The Negotiation Skills Company, Inc. (TNSC) different from other providers of negotiation training?


We recognize that negotiation is not a competitive sport, that unless the parties collaborate to reach agreement, even short-term solutions may fall apart.
TNSC's copyrighted preparation tool has been found to save four hours of negotiation time for every fifteen minutes devoted to the use of the tool.
Every one of our trainers has a minimum of twenty years experience as a deal-making negotiator in such fields as banking, lobbying, real estate, labor/management, sales, divorce, journalism and publishing, and hostage negotiations.
Each program is customized to address the interests of our organizational clients and the individual participants.
TNSC undertakes extensive follow-up with all participants in our courses, with contact every month and detailed document follow up twice in the first year following each program.